Spinner Hanger Shot Blaster SPH Type
BlastKing is a world leader in surface preparation technology, offers a complete range of surface preparation technologies, parts and services and stands ready to improve our customers' productivity and profitability.
The Carousel Shot Blasting Machines with two or three chambers are applied for surface treatment and deburring aluminum parts, descaling of forgings, and sand removal from castings.
The machines feature two/three/four blast chambers that form two halves of a cylinder that rotates around the vertical axis. This structure enables simultaneous loading/unloading and blasting, resulting in more efficient use of space and the 2/3 blast wheels.
Features
Proven ORICA® double-disc blast wheels with the inclined layout
Integrated filter unit possible – depends on machine size
Automatic PLC control
The special design of the chamber, maximal possible use of rebound shot
Easy to automate loading/unloading by robot/manipulator
Applications
Surface treatment and deburring of aluminum parts
Descaling for forgings
Desanding of castings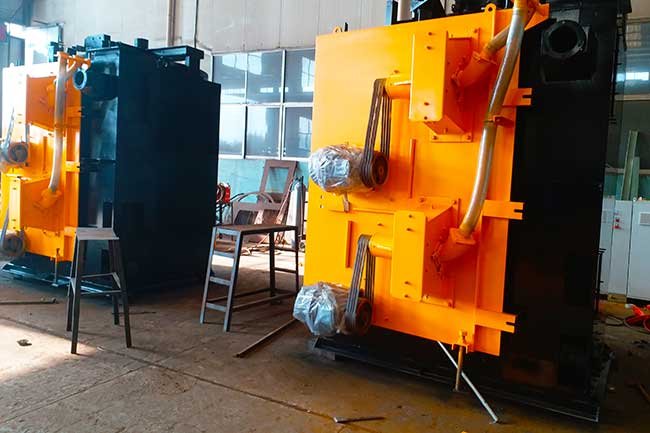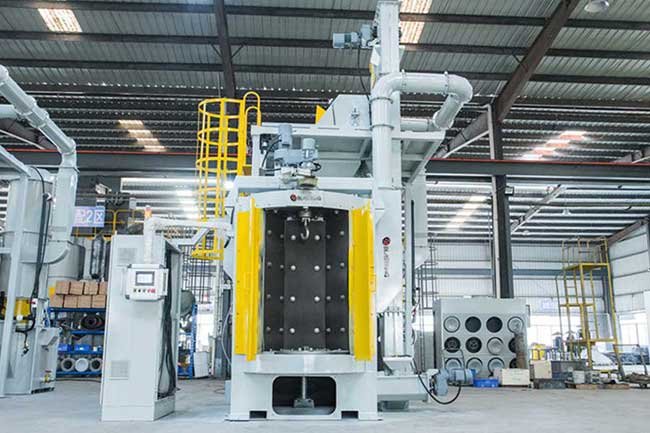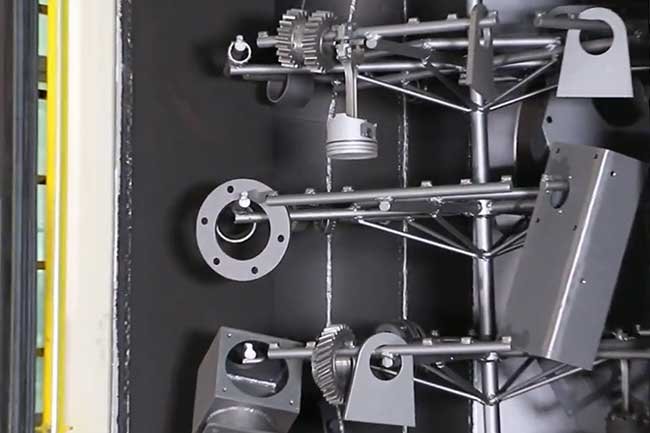 High Performance Carousel Shot Blasting Machine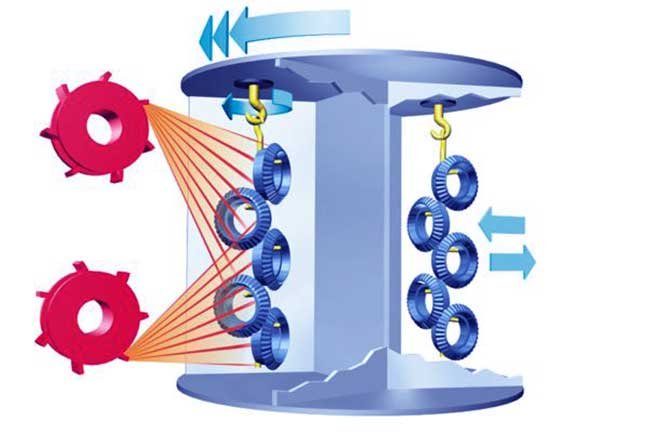 Each blasting chamber is equipped with a spinner hook to receive the hangers with the parts to be cleaned. The loading area of the machine is open so that one of the compartments can be unloaded and re-loaded while workpieces are blast cleaned in the other compartment.
The liner of blast cleaning blasting chambers is made with highly wear-resistant material. A unique seal design protects against abrasive leakage from the compartments during the blast cleaning process. Two safety switches along the loading/unloading opening edge ensure the machine turns off in case workpieces get jammed.
Basic Specification
| Type | SPH2-3/8 | SPH2-3/9 | SPH2-5.5/12 | SPH2-8.5/15 | SPH3-6/11 |
| --- | --- | --- | --- | --- | --- |
| Max. loading capacity (kg) | 150 | 150 | 300 | 600 | 300 |
| Max.envelope circle(mm) | 300 | 300 | 550 | 850 | 600 |
| Max. hanger height(mm) | 800 | 900 | 1200 | 1500 | 1100 |
| Number of blast turbines | 2 | 2 | 2 | 2 | 2-4 |
| Power per blast turbine (kw) | 7.5 | 7.5 | 7.5 | 11 | 11/15 |
The technical data is not binding and may be subject to change.
Depending on the type of parts, production method, etc., further machine types and measurement specification sheets upon request.
Get A Strong Partner at Your Side Now!
Consult your dedicated surface preparation equipment experts to make your business succeed!