Smartline Tumble Shot Blaster
BlastKing is a world leader in surface preparation technology, offers a complete range of surface preparation technologies, parts and services and stands ready to improve our customers' productivity and profitability.
The SmartLine tumble shot blast machines are ideal for cleaning and finishing batches of components such as castings and small fabrications.
The workpieces, regardless of size and shape, are evenly and continuously tumbled during shot blasting. This process is necessary for the effective and uniform treatment of all surfaces. During tumbling, the workpieces continually undergo shot removal, enabling workpiece interiors and cavities to be perfectly cleaned. For the complete removal of all shots, the final tumbling time that follows the shot blast sequence can be regulated to suit the type of workpieces being blast cleaned. The tightly sealed, leak-proof blast chamber minimizes shot consumption.
Features
Extremely compact design, minimum floor space required
Totally self-contained, includes a dust collector, separator, cartridge filtration system
"Plug and play" characteristics, i.e. the machines can be installed and put into operation in the shortest possible time
No special foundations are required, and no extra ducting needed
All machines feature the ORICA high-efficiency blast wheel
Full safety interlocks
Low noise levels
Applications
For the treatment of, steel fabrication, PEB beams, plates, and profiles in the steel manufacturing and processing industry.
Cleaning
Corrosion removal
Paint stripping
Rust and heat scale removal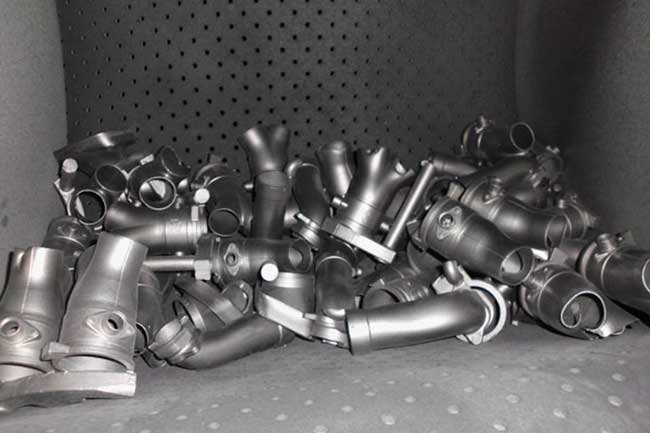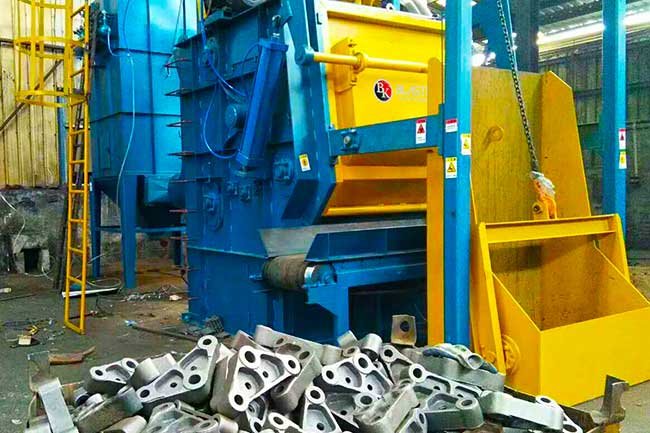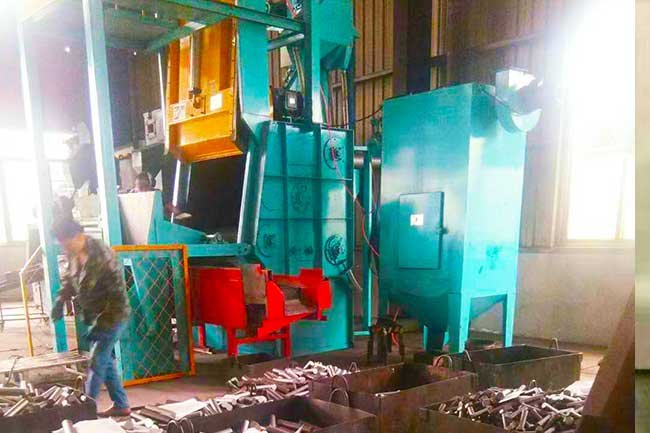 Highest Performance Tumble Shot Blaster
The tumble shot blast machines are ideal for cleaning and finishing batches of components such as castings and small fabrications. All models are self-contained and include automatic sweep up, collection, separation of abrasive, and dust collection. No special foundations or additional ducting are required. Most models can achieve further efficiency by adding automatic loading and unloading equipment.
All MB100G to MB400G series machines are equipped with wear-resistant rubber belts. These machines are also suitable for processing light alloy parts.
Basic Specification
| Type | MB150 | MB300 | MB400 |
| --- | --- | --- | --- |
| Productivity(t/h) | 0.6-1.2 | 1.5-2.5 | 3-5 |
| Max volume charge (dm3) | 150 | 300 | 400 |
| Max advised load (kg) | 200 | 600 | 800 |
| Drum diameter (mm) | 650 | 1000 | 1000 |
| Number of blast wheels | 1 | 1(2) | 1(2) |
| Wheel power (kW) | 7.5 (11) | 11/15 (2x11) | 11/15 (2x11) |
| | | | |
The technical data is not binding and may be subject to change.
Depending on the type of parts, production method, etc., further machine types and measurement specification sheets upon request.
Get A Strong Partner at Your Side Now!
Consult your dedicated surface preparation equipment experts to make your business succeed!