Batch-type Tumble Shot Blaster with rubber/Steel Belt
BlastKing is a world leader in surface preparation technology, offers a complete range of surface preparation technologies, parts and services and stands ready to improve our customers' productivity and profitability.
BlastKing tumbast machines are designed for batch operations. Appropriate loading and unloading devices can be used to integrate the shot blast machine into an existing production plant to create a continuous work flow.
The batch-type tumble shot blast machines are the ideal way to clean and finish batches of components such as castings and small fabrications. The transport belt provides the tumbling action to expose all areas of the components to the blast stream, to ensure complete cleaning in one cycle. After the blast cycle, the automatic reversal of the conveyor discharges the components ready for further processing.
Features
Compact design, simple operating principle
Forced but gentle turning and tumbling of the parts
Targeted high performance shot blasting for specific applications
Continuous and thorough shot removal
Special design for use of aluminium abrasive
Removal of shot, sand, or scale via vibrating conveyor
Steel or rubber belt conveyor
Ergonomic maintenance platforms
Applications
Descaling of forged or heat-treated parts
Desanding of ferrous and non-ferrous metal castings
Deburring of metallic and non-metallic parts
Paint stripping
Surface texturing
Preparation for painting, bonding, and plating
Cosmetic finishing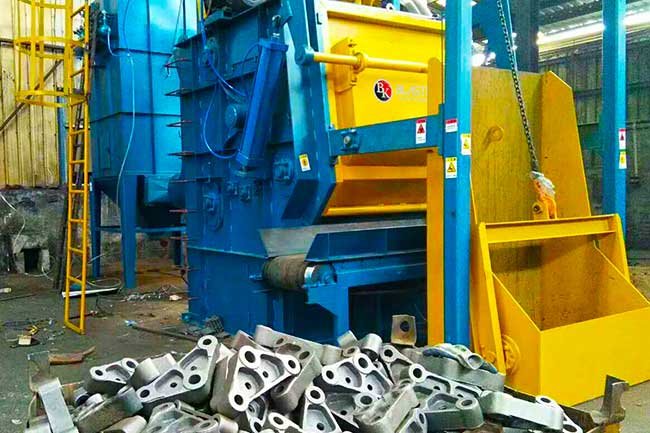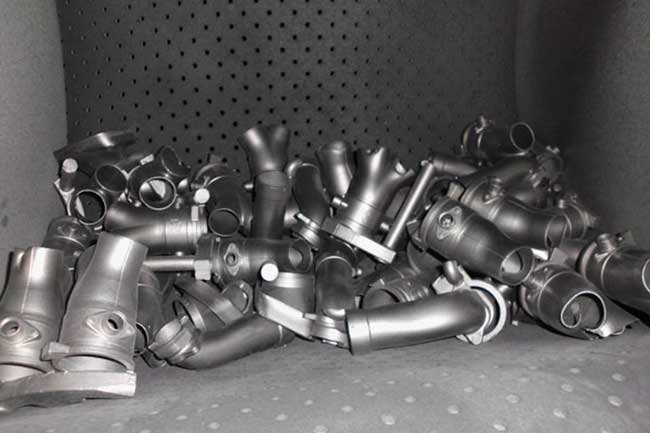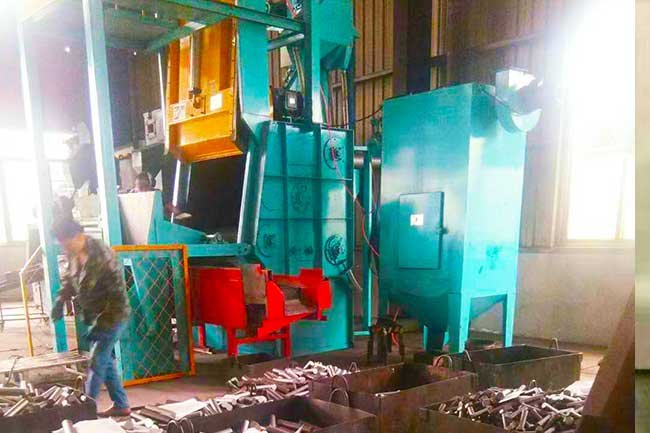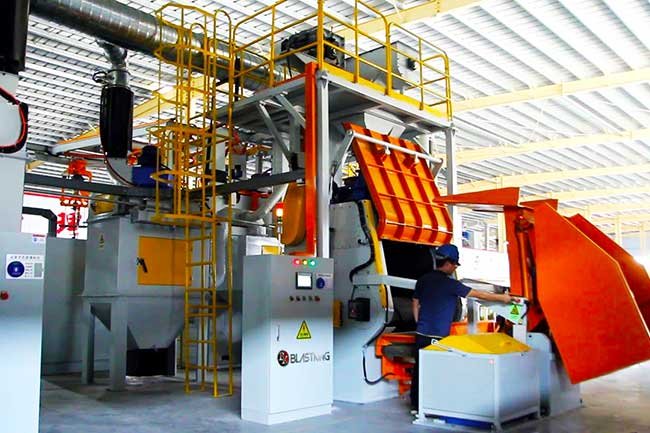 Batch Type Tumble Shot Blaster
BlastKing tumble blasting machines are designed specifically to minimize the height from which parts are dropped at loading and unloading in order to reduce damage to sensitive parts.
During shot blasting, the workpieces, regardless of size and shape, are evenly and continuously tumbled. This is necessary for the effective and uniform treatment of all surfaces. During tumbling, the workpieces continually undergo shot removal, enabling workpiece interiors and cavities to be perfectly cleaned. For the complete removal of all shot, the final tumbling time that follows the shot blast sequence can be regulated to suit the type of workpieces being blast cleaned. The tightly sealed, leak-proof blast chamber minimizes shot consumption.
Basic Specification
| Type | MB150G | MB200G | MB300G | MB1000G |
| --- | --- | --- | --- | --- |
| Productivity(t/h) | 0.6-1.2 | 1.5-2.5 | 3-5 | 5-8 |
| Max volume charge (dm3) | 150 | 300 | 400 | 720 |
| Max advised load (kg) | 200 | 600 | 800 | 1000 |
| Drum diameter (mm) | 650 | 1000 | 1000 | 1000 |
| Number of blast wheels | 1 | 1(2) | 1(2) | 2 |
| Wheel power (kW) | 7.5 (11) | 11/15 (2x11) | 11/15 (2x11) | 11/15 |
| | | | | |
The technical data is not binding and may be subject to change.
Depending on the type of parts, production method, etc., further machine types and measurement specification sheets upon request.
Get A Strong Partner at Your Side Now!
Consult your dedicated surface preparation equipment experts to make your business succeed!