Skew roll Shot Blaster for Cylindrical Parts
BlastKing is a world leader in surface preparation technology, offers a complete range of surface preparation technologies, parts and services and stands ready to improve our customers' productivity and profitability.
BlastKing Skew roll shot blasting machines are mainly for the automatic shot blast of the outside surface of pipes, tubes, bars, gas bottles, and other cylindrical bodies.
Different types of shot blasting machines with Diabolo rollers are available, having a variable number of blast wheels, varying sizes of diabolo rollers, and installed powers, depending on the customer's production requirements.
BlastKing skew-roll shot blast machines include an air wash and dust collection system to remove contaminants and fines, control dust, and maintain correct abrasive size.
Features
Proven high-performance ORICA® double-disc blast wheels 
Various numbers of wheels are possible
Integrated filter unit possible – depends on machine size
abrasive removal device
Automatic PLC control
Workpiece recognition
Applications
For the treatment of cylindrical parts such as cylinders, bars, pipes, etc.
Cleaning
Corrosion removal
Paint stripping
Rust and heat scale removal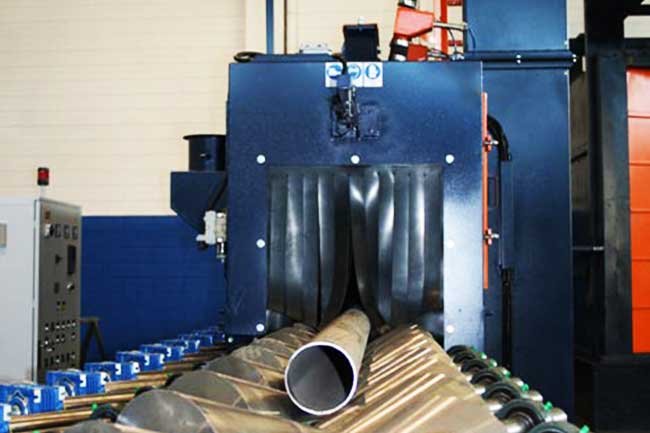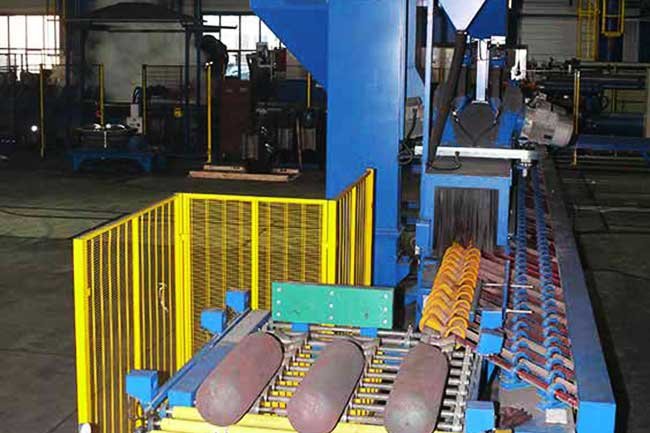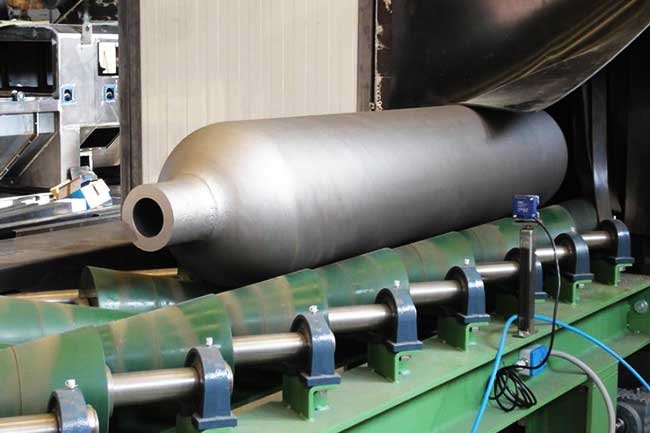 Highest Performance Skew Roll Shot Blaster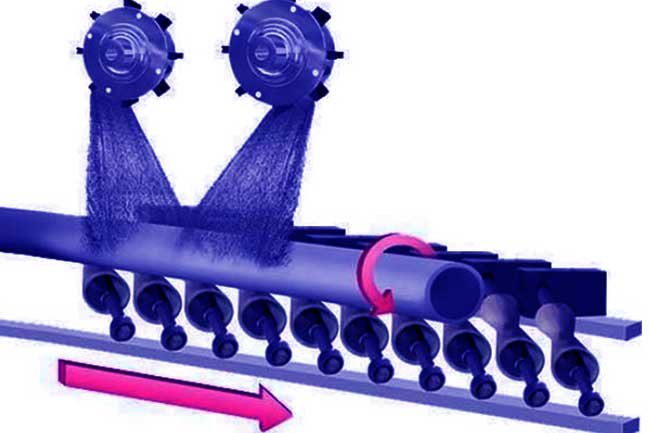 The BlastKing skew-roll shot blasting machine is a fully automated system designed to remove rust and scale from many cylindrical parts:
Pipes

Tubes

Round bars

Torsion bars

Drill rods

Re-bars

Gas cylinders, etc.
The workpieces pass through the blast machine on a specially designed skew roll-type material handling system. Extensive high-production blast cabinets can handle various work sizes at variable cleaning speeds.
Basic Specification
| Type | SR 8-20 | SR24-60 | SR60-150 |
| --- | --- | --- | --- |
| Maxi. Pipes diameter (mm) | 200 | 600 | 600-1500 |
| Work speed (m/min) | 0.5-18 | 0.5-18 | 0.5-18 |
| Number of blast wheels | 2/4/6 | 2/4/6 | 2/4/6/8 |
| Power per blast wheel (kW) | 7.5/11/15/18.5 | 7.5/11/15/18.5 | 7.5/11/15/18.5/22 |
| Roller pitch (mm) | 600 | 600 | 600 |
| Alternative pitch (mm) | tailored by customer | tailored by customer | tailored by customer |
The technical data is not binding and may be subject to change.
Depending on the type of parts, production method, etc., further machine types and measurement specification sheets upon request.
Get A Strong Partner at Your Side Now!
Consult your dedicated surface preparation equipment experts to make your business succeed!