Airblast Cabinet Manufacturer
At Cheap Price
If your operations involve cleaning chemicals, acid etching or dipping, liquid honing, wire brushing, sanding, deburring, grinding, peening, et cetera, adopting a SmartLine airblast cabinet will usually expedite work, improve quality and eliminate the environmental problems associated with chemical finishing.
Get Your Instant Quote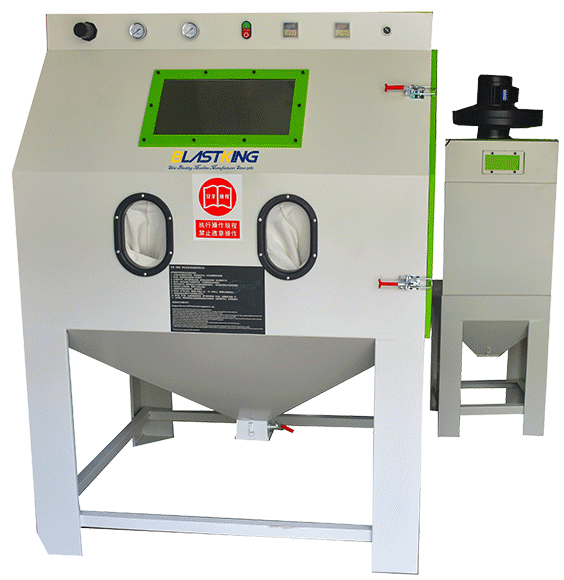 Both Suction & Pressure Blast Systems Available
These rugged sandblasting cabinets enable you to perform a long list of tasks ranging from blending surface flaws to removing foreign matter, such as carbon from pistons, without affecting tolerances. By simply varying air pressure and blast media, you can perform almost any surface finishing job more quickly and precisely than with alternative methods.
Smartline blasting cabinets can be specified with either suction or pressure blast systems – a pressure system being the preferred choice for faster production and more precise control of media at both high and low operating pressures. In addition, they are available in seven sizes and loaded with standard features that reduce operating and maintenance costs.
Features
Low noise levels
High ventilation rate for good visibility
Compact external dimensions
Robust construction
Large viewing window to suit a wide range of operator heights
Reverse jet dust collector with auto pulsing
Elliptical glove ports to suit a wide range of operator heights
Internal blow down gun
Anti-static gauntlets
Adjustable feed valve for superior, even abrasive feeding
Applications
Cosmetic finishing
Mould cleaning
Preparation for painting, bonding and plating
Corrosion removal
General component cleaning
Rust and heat scale removal
Surface texturing
Preparation for painting, bonding and plating
Corrosion removal
General component cleaning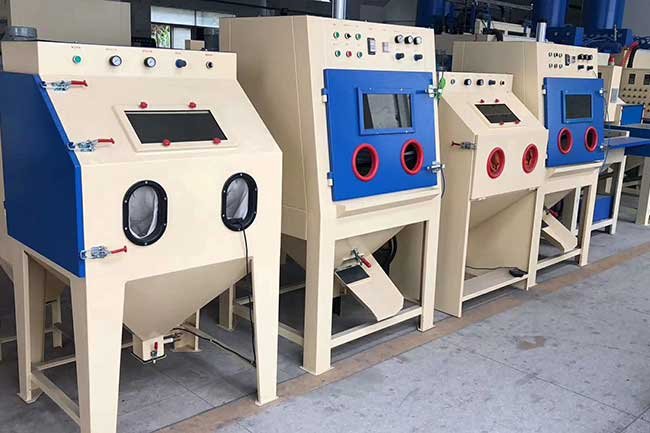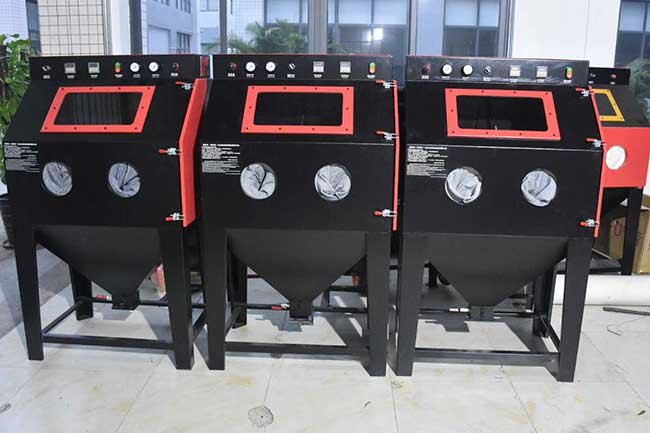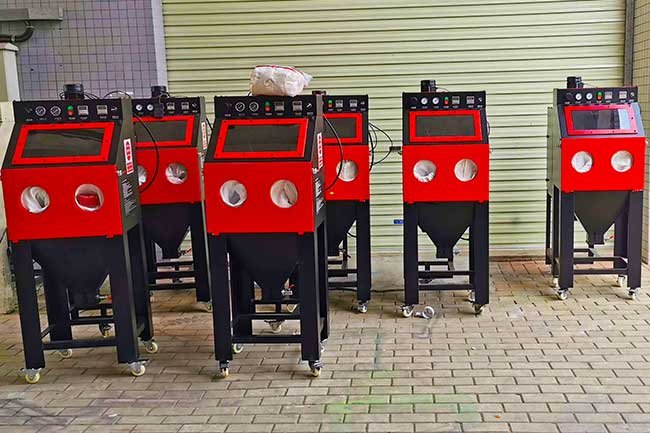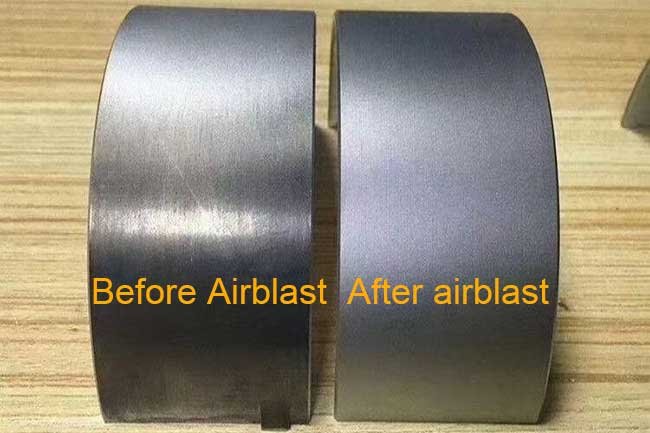 The SmartLine Blasing Cabinet Range
The SmartLine suction and pressure-fed airblast cabinets are designed to ensure efficient operation and maximum operator comfort in full production environments.
SmartLine machines are robustly constructed in a space-saving design that incorporates an integral reverse pulse dust collector and cyclone separation system.
Suction-fed machines provide a less aggressive surface treatment ideal for cosmetic finishing and mold cleaning. At the same time, pressure-fed blasting allows high throughput for demanding applications such as rust and heat scale removal and surface texturing. Pressure-fed cabinets feature a magnetized screen and cyclone to improve the quality of the recycled abrasive.
Basic Specification
| Type | KY6050 | KY9060 | KY9080 | KY1010 | KY1212 |
| --- | --- | --- | --- | --- | --- |
| Cabinet Innner Length | 600 | 900 | 900 | 1000 | 1200 |
| Cabinet Inner Width | 500 | 600 | 800 | 1000 | 1200 |
| Cabinet Inner Height | 550 | 600 | 650 | 700 | 800 |
The technical data is not binding and may be subject to change.
Depending on the type of parts, production method, etc., further machine types and measurement specification sheets upon request.
Get A Strong Partner at Your Side Now!
Consult your dedicated surface preparation equipment experts to make your business succeed!