RT type Table Shot Blast Machine
BlastKing is a world leader in surface preparation technology, offers a complete range of surface preparation technologies, parts and services and stands ready to improve our customers' productivity and profitability.
BlastKing's table blasting machines are designed and built as fully integrated blast cleaning systems to handle larger and/or more fragile castings than barrel machines.
Superior design, quality and rugged construction make the BlastKing Machines more reliable and easier to maintain than other machines.
Features
Proven ORICA® double-disc blast wheels with the inclined layout
Various numbers of wheels are possible
Automatic PLC control
Extremely compact design, minimum floor space required
Totally self-contained, includes dust collector, separator, cartridge filtration system
No foundations required, no extra ducting needed
Clamshell door design allows easy loading with truck or crane
Full safety interlocks
Low noise levels
Applications
Rust and heat scale removal
Paint stripping
Surface texturing
Preparation for painting, bonding and plating
Corrosion removal
Deburring, deflashing
Cleaning
Cosmetic finishing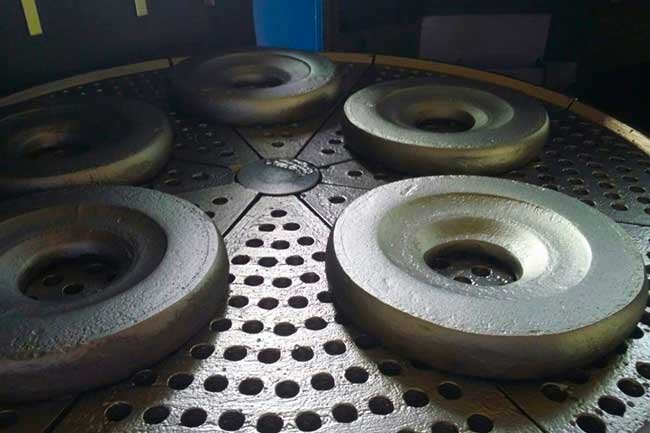 High Performance Table Shot Blaster
 The applications of Rotary table blast machines are mainly for targeted blast cleaning of single/multiple workpieces producing repeatable cleaning results. Placed workpieces on the slowly rotating table, the workpieces are exposed to blast stream from the turbine(s) located on the wall & ceiling of the machine housing.
The shot blast process can occur in single batch mode or indexing with multiple batches placed on the rotary table. Depending on the processing mode, the table is open over 360 degrees or divided into different segments. The layouts of the blast wheels on the table-type blasting machine are mainly according to the features of the parts.
Basic Specification
| ITEM | RT1000/900 | RT1200/900 | RT2000/1500 |
| --- | --- | --- | --- |
| Maximum dimension of chamber (mm) | Φ1350×560 | Φ1350×860 | Φ2654×560 |
| Maximum workpiece weight (kg) | 400 | 400 | 1000 |
| Diameter of Turn Table(mm) | Φ1200 | Φ1200 | Φ2500 |
| Number of blast wheels and power (kw) | 11 | 2×7.5 | 2×15 |
| Overall dimension (mm) | 1500×3450×3780 | 1900×3450×4160 | 4260×3647×5366 |
| Material of table | Manganese | Manganese | Manganese |
| Ventilation requirements (m3/h) | 4000 | 6000 | 8000 |
| Material of Protective lining | Manganese/Cast alloy | Manganese/Cast alloy | Manganese/Cast alloy |
| Material of blast chamber | Mild steel | Mild steel | Mild steel |
The technical data is not binding and may be subject to change.
Depending on the type of parts, production method, etc., further machine types and measurement specification sheets upon request.
Get A Strong Partner at Your Side Now!
Consult your dedicated surface preparation equipment experts to make your business succeed!